My TV Dinner: A day with Mel & Sue

Last week I was on Mel & Sue and it was both one of the most surreal and one of the most fabulous (darling!) days of my life…
When I started this blog back in July, I never dreamed that within a year it would get me on the telly! Nevertheless, last week, that's exactly what happened…
Here's a brief account of my amazing day, along with the all important recipes 🙂
Wait, I get my own dressing room?
Surreal moment number 1: On arrival at the Bayswater studios, I was warmly greeted and then led to my OWN dressing room. Yes, it had a mirror with lights around it and yes, there was a make up lady waiting to transform me into a false eye-lashed, curled hair glamour-puss.
Surreal moment number 2: Once buffed and beautified, I was whisked off to film my cheesey introduction. Gritting my teeth, I stood on my mark, faced the camera and smiled, waved and put my thumbs up. When handed a picture frame and asked to 'have fun with it', I must confess, I faltered…
Surreal moment number 3: Arriving on the set that I had watched so many times on the telly. I stood in the kitchen while someone told me what I had to remember to say, someone else primped my hair, another attached a microphone to me and another showed me where all my ingredients were (all to a backdrop of chaos while dozens of people rushed around preparing for the show).
Surreal moment number 4: Looking up from the kitchen worktop to find a real life Mel and a real life Sue in front of me. 'Colette! Thank you SO much for coming on the show!'.
Surreal moment number 5: Sue chatting to me about what she would say when she came to talk to me in the audience at the start of the show. She wanted to ask me about food hugs – does that mean she'd looked at my blog??
Surreal moment number 6: Going to take my place in the audience before the show, to find it had a sign attached saying 'Reserved: Colette Broomhead, Chef.'
Surreal moment number 7: Hearing Mel and Sue introduce me and say my name ON THE TELLY!
Surreal moment number 8: Having a chat with Stephen Mangan about chopping thyme, while we watch Mel & Sue make an apology about a model railway…
Surreal moment number 9: Cooking pizza in a fake kitchen, whilst bossing around Mel, Sue and Stephen Mangan. Gotta say, I never saw that coming.
Surreal moment number 10: Jessica Hynes stopping mid-sentence whilst being interviewed because she smelled MY pizza.
BIG day.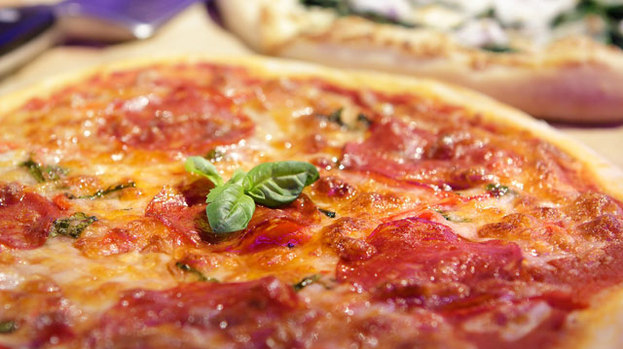 Colette's Perfect Pizzas (their words, not mine..)